COVID-19 UPDATE:
We are currently closed due to the ongoing pandemic. We hope to open outside again on April 12th.
For enquiries about booking an event please email
cambridgebluemoon.events@gmail.com
though please note we are not currently taking any bookings before October 2021
The Blue Moon Pub, Cambridge
Music. Beer. Pizza. Gin.
Food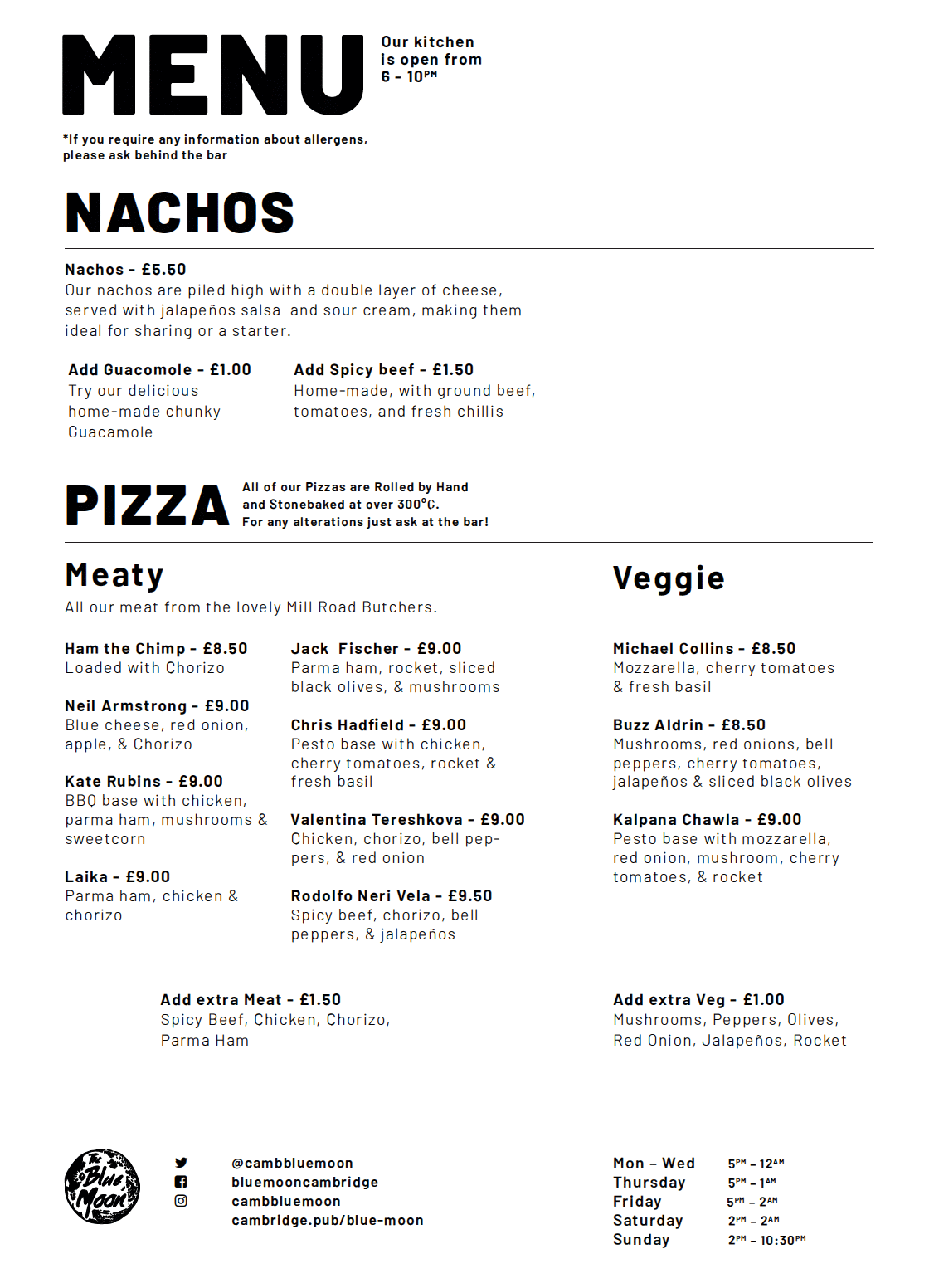 A vast selection of fine beverages
Here at The Blue Moon we pride ourselves on top notch drinks! We always have a beautifully vast selection of craft beers, specialising in those from the UK. We also love a spirit, so whether you're after a Gin, Whiskey or Rum we have both small batch, and old favourites to choose from.
Craft Beer
With 20 Keg lines we really are specialists in craft beer! Our core range includes local breweries such as Calverley's and Three Blind Mice, and some from further afield with the likes of Adnam's, Bitburger, and Benediktiner. We also have regular deliveries from some of the country's finest brewery's, like The Kernel, Tiny Rebel, Gipsy Hill, Brew York, Buxton and many many more.
Tap Takeovers
The First Thursday of every month is dedicated to bringing our favourite brewers to you! The front bar is occupied by 10 beers by a select brewer, bringing you the most interesting and delicious beers they have to offer, and if we're lucky we will also be joined by someone from the brewery! We also team up with local food vans to bring you quality street food! Guaranteed to be an amazing night!
Gins
A massive Gin range totalling over 100, from all over the globe, whether you like something spicy, a classic London dry or something a little bit fruity we will have the perfect Gin for you! We also have a great selection of Tonic Water to pair with the gin of your choice. Just ask the bar staff for their recommendations!!
Latest News & Events
Find out all the latest news on our Social Media
Please be aware, the building is wheelchair accessible but unfortunately we do not have disabled toilets.
Normal Opening Hours:
Mon – Wed 17.00 – 00.00
Thu 17.00 – 01.00
Fri 17.00 – 02.00
Sat 14.00 – 02.00
Sun 17.00 – 22.30