The Cambridge Blue Pub
One of Cambridge's enduring institutions; generations of happy customers.
Multi-CAMRA-Award-Winning Freehouse
Cambridge's Real Ale Paradise
Dates For Your Diary
Wednesday 17th January

– Pub Quiz! Jethro will be hosting the Blue Moon's usual Wednesday quiz here at The Cambridge Blue this week. All sorts of prizes on offer, plus a chance to win the cash jackpot.

Friday 26th January

 – Australia Day. Specials with a down-under theme will be served from our kitchen all night.
The latest update from our beer people:
Yes, it's January and people say it's a dead month, but not at The Blue, oh no! We still have stacks of awesome beer coming up. We planned for this…
Coming up this week:
Our friends at Nene Valley Brewery and Three Blind Mice have brewed not one but TWO special collaborations which we will of course be serving. First up is the 'brewed at NVB' Australian red ale Kongorong Red IPA named after the Nene Valley in this particular region of South Australia (you've got to admire the research department these guys employ), and I'll avoid any cricket references since we've lost the Ashes. Moving swiftly on, also from NVB, the welcome return of their signature IPA 'Jim Irving Pale' again, which went so quickly last time that I didn't even get a pint of it. So I ordered more. Also, being served now is the latest brew of Lonely Snake from 3BM, the best 3.5% hoppy ale around in my opinion. We've got another winter warmer settling in the cellar to go on handpull from the very excellent Signature Brew in London, weighing in at 6.8%. XT-8 will interest the dark drinkers amongst you, a rich and bitter roasty porter with plenty of coffee flavours. A couple of other highlights are some serious single-variety pales from Nomadic Beers (Citra) and Twisted Barrel (Chinook). Last but by no means least, we have the mighty Adnams Broadside on cask, a true stalwart of Real Ale, and in my opinion, THE definitive best bitter, the benchmark of traditional rich malt power without being too sharp, dry or sweet. A personal favourite.
Yeah, we don't really do Dry January here (check out @tryanuary if you fancy a gander at the some interesting new beer coming out!). It does tend to be a bit quieter in January but that just means that the true beer-lovers appreciate quicker service and first dibs on seating as well as all this awesome beer we've saved just for January.
On keg, we have a star-studded lineup just waiting to come on including Wiper and True's 'Autobahn 4' (their Fig and Quince IPA is on RIGHT NOW and is selling like nobody's business so get in quick!). I was going to harp on about Burning Soul's Belgian IPA but it's all gone now, you missed it, sorry… shame, it was awesome. Don't worry though, plenty of goodies [not quite literally yet] in the pipeline from the very highly-regarded Lost and Found, Northern Whisper, and Wild Weather. Hoping to get them on for the weekend, but you lot will have to help us get it on by demolishing our current lineup.
Come drink beer.
Food
OUR KITCHEN
Our kitchen is open Monday-Saturday 12-3 and 6-9, and we serve a cracking Sunday Roast from 12 noon until it runs out, and then serve our regular menu until 8pm. It's always best to book a table, but as always we welcome people for food during all service times without advance booking. Please call us on 01223 471680
PLEASE NOTE that since we are now serving food, we no longer allow takeaways to be ordered to the pub.
Our menu is mainly based around the award-winning Pieminister Pie range, but we do let our chefs get a bit creative so a few specials will be available throughout the week.  If you are looking to host an event or bring a large number of people in, we are happy to discuss some special arrangements, please email us directly.
A vast selection of fine beverages
Needless to say, our focus is Real Ale, however we also stock a good range of Real Cider and Perry, having won Cider/Perry Pub of the Year for Cambridge 2012 and 2016.  We tend to stock 6 or 7 ever-changing ciders but always have a good  balance of sweet, medium, dry and occasionally a flavoured cider.
'Craft Beer'? Whatever your definition of it is, we have loads of it! Most people mean beer from keg taps rather than  hand-pump or served by gravity (straight out of the barrel), a method of dispense normally associated with lager. Whatever your personal opinions on non-cask-conditioned beer, we aim to provide a good balance of European lagers and new beer from the UK market.
Wine drinkers are not forgotten here, our small range comes hand-picked by our managers and the lovely folks at Bacchanalia, one of Cambridge's elite independent wine merchants.
Aperatif? Our shelves are stocked with over 70 single malt Scotch whiskies (and a few whiskeys for good measure) to dazzle you while you are standing at the bar. We have a few gins to choose from but let our sister pub The Blue Moon to act as our Gin Palace. A small selection of Rums and Bourbons add a little sweetness to our selection.
It's fair to say that we'll probably be able to find something you like!
Real Ales
Regular beers from Dark Star, Woodforde's and Nene Valley. Rotating new beers from Three Blind Mice, Mighty Oak, and many thousands more.
Wine
A small but fine selection from our friends at Bacchanalia, encompassing French, New Zealand, Chilean and Italian varieties.
Gin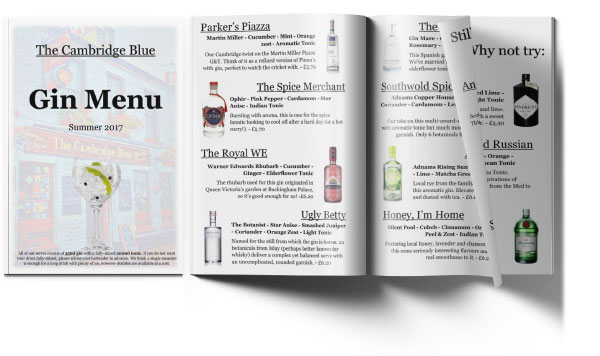 Malt Whiskies
A wide selection including some rarer and older expressions from all over Scotland. Occasional guest appearances from Irish and if you're really lucky, Japanese distilleries.
Contact Us
The Cambridge Blue
85-87 Gwydir St,
Cambridge,
CB1 2LG
01223 471680
blue@cambridge.pub
Normal Opening Hours:
Mon – Sat 12 – 11pm
Sun 12 – 10.30pm
Reserve a table now!
Find out all the latest news on our Social Media