The Cambridge Blue
One of Cambridge's enduring institutions; generations of happy customers.
Multi-CAMRA-Award-Winning Freehouse
Cambridge's Real Ale Paradise


The Cambridge Blue Kitchen 
Our kitchen is open Monday-Thursday 12pm-3pm & 5:30pm-9pm, Friday 12pm-3pm & 5:30pm-9:30pm, Saturday 12pm-9.30pm at 12-8.30pm on a Sunday!
It's always best to book a table, but as always we welcome people for food during all service times without advance booking. Please call us on 01223 471680
Our menu is mainly based around the award-winning Pieminister Pie range, and our classic homemade pub meals. However our chefs do like to get a bit creative so keep your eye out for our ever changing specials that are available throughout the week.
If you are looking to host an event or bring a large number of people in, we are happy to discuss some special arrangements, please email us directly.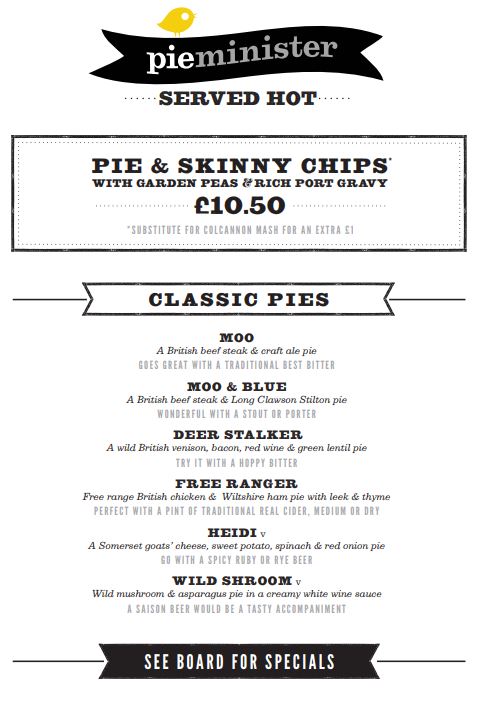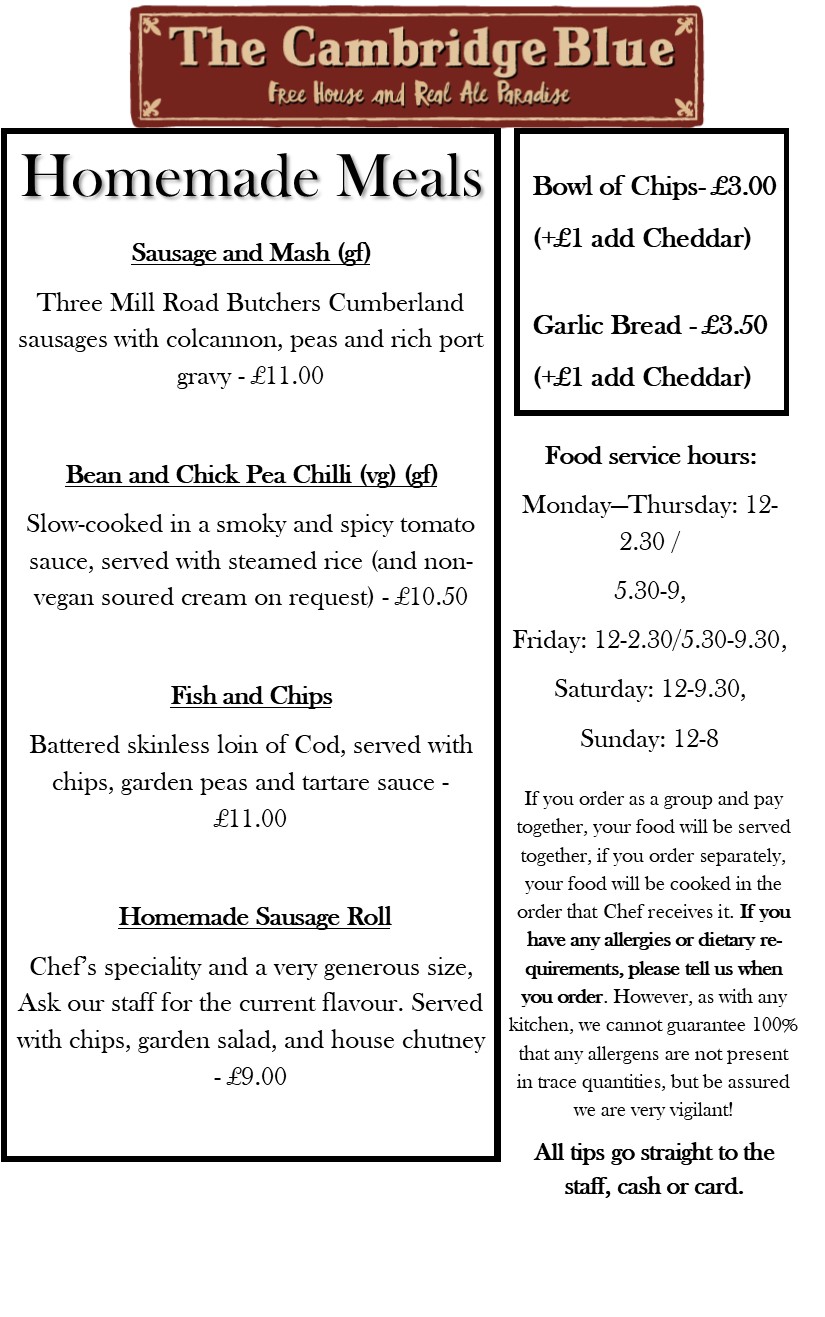 ---
Who Are Pieminister?
We are proud to be serving you Pieminister pie's! They go down a treat with The Cambridge Blue Team and customers alike!
We want our patrons to eat and drink the best that they can get, so we chose Pieminister because they are an award winning pie makers with a vast range of delicious pies that use 100% free range British meat for there meat pies, but they also have Vegetarian Society and Coeliac Society approved pies too. But don't just take our word for it, come down and give them a try for yourself, we can confidently assure that you will not be disappointed!
For more information on Pieminister and their story and ethos visit there website here.
---
The Cambridge Blue Christmas Buffet Menu
5 items – 12.50 pp / 8 items – 17.75 pp / 10 items – 19.75 pp
Minimum party size 6 ppl
Duck liver, orange & cognac liqueur pâté
with baked ciabatta bread
Breaded brie bites
with caramelised onion chutney (v)
Pigs in blankets (gf)
with mustard and honey dip
Vol au vents
smoked salmon gravadlax & cream cheese, barbecue pulled pork, roasted vegetable and hummus.
Falafel nibbles
 with a spiced sour cream dip (v)
Festive cheese platter
a selection of three cheeses including Cambridge blue
Charcuterie platter
Parma ham, bresaola and chorizo, chutney and a selection of crackers.
Homemade Turkey, cranberry and stuffing sausage rolls.
Spicy, feta cheese stuffed red peppers (v) (gf)
Potted crayfish tails
 with baked ciabatta bread
Homemade mince pies
with Cointreau infused cream
Please note that while we are very vigilant, our kitchen does contain known allergens, and therefore contact with nuts, tree nuts, gluten, dairy, soya and other allergens is possible. Please inform staff of any allergies/intolerances and we will do our best to accommodate.     gf = Gluten free, V= vegetarian. (Fish may contain bones)
A vast selection of fine beverages
Needless to say, our focus is Real Ale, however we also stock a good range of Real Cider and Perry, having won Cider/Perry Pub of the Year for Cambridge 2012 and 2016.  We tend to stock 6 or 7 ever-changing ciders but always have a good  balance of sweet, medium, dry and occasionally a flavoured cider.
'Craft Beer'? Whatever your definition of it is, we have loads of it! Most people mean beer from keg taps rather than  hand-pump or served by gravity (straight out of the barrel), a method of dispense normally associated with lager. Whatever your personal opinions on non-cask-conditioned beer, we aim to provide a good balance of European lagers and new beer from the UK market.
Wine drinkers are not forgotten here, our small range which includes wines from Italy, Chile, New Zealand and the US, comes hand-picked by our managers and the lovely folks at Bacchanalia, one of Cambridge's elite independent wine merchants.
Aperatif? Our shelves are stocked with over 70 single malt Scotch whiskies (and a few whiskeys for good measure) to dazzle you while you are standing at the bar. We have a few gins to choose from but let our sister pub The Blue Moon to act as our Gin Palace. A small selection of Rums and Bourbons add a little sweetness to our selection.
It's fair to say that we'll probably be able to find something you like!
Real Ales
Regular beers from Dark Star, Woodforde's and Nene Valley. Rotating new beers from many local breweries including Three Blind Mice & Turpins, and many many more from far and wide!
Wine
A small but fine selection from our friends at Bacchanalia, encompassing French, New Zealand, Chilean and Italian varieties.
Gin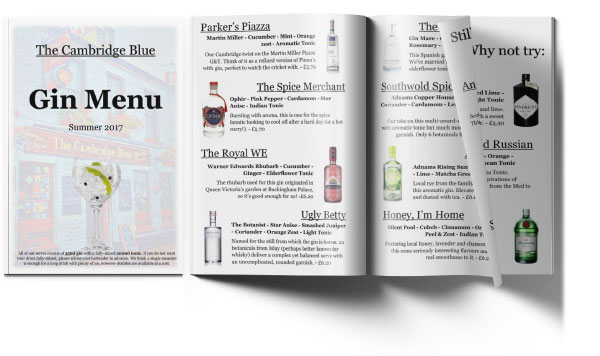 Malt Whiskies
A wide selection including some rarer and older expressions from all over Scotland. Occasional guest appearances from Irish and if you're really lucky, Japanese distilleries.
Normal Opening Hours:
Mon – Fri 12pm – 11pm
Sat 11am – 11pm
Sun 12pm -10:30pm
Find out all the latest news on our Social Media