The Cambridge Blue Pub
One of Cambridge's enduring institutions; generations of happy customers.
Multi-CAMRA-Award-Winning Freehouse
Cambridge's Real Ale Paradise
The latest update from our beer people:
Greetings Beer Drinkers!!
In the last two weeks we've enjoyed some excellent cask ale from Salopian, Wiper and True, Lost+Found, as well as local heroes Three Blind Mice and Nene Valley, plus our regular 'send-us-another-can-load' friends at Dark Star. Some really awesome stuff coming up, plus a few repetitions of special brews as they were so damn popular!
Caskophiles! Look no further than Blackjack Beers, we destroyed a nine of 'You Bet' last week, and we're following up with [#nowpouring] a 4.5% 'Hop Combat Pale Ale'  featuring Vanguard and Mosaic, an excellent combination with a fruity light flavour and quite a resinous finish. These guys are definitely on the 'must buy more' list! Also #nowpouring and noteworthy, plus also Mancunian, is an old ale from Beer Nouveau called Old Ardwick. Unusually chocolatey for an Old, but packs a serious punch at 5.9%, whilst still being smooth, it does lack the bitterness often associated with this style, making it dangerously drinkable.
Tapped today: Box Social's West Coast Pale Ale at 5% delivers juice, juice and more juice! Fantastically smooth, more like a NE than a WC but hey ho, that's just, like, our opinion, don't let us tell you what to taste, come and try it yourself, drink several pints and tell us what you really think! More beer from Twisted Barrel since the last lot went down so well! This time, the interestingly-titled Sine Qua Non, which hit the ceiling when vented, so potentially a few days until this has settled. Expect big hop flavour off this, it's got European Hallertau Magnum, and Summer Saaz, as well the fearsome trio of Cascade, Citra and Mosaic! Following on from that we have MORE NEW BEER! This time 3 Piers Brewery, we had to check Companies House for this one, and they've only been going since March, so less than a year old, however we have heard on the grapevine that the brewer has worked with a couple of other North-East outfits in recent years, so we're hoping for good things from West Coast Blonde… oh wait, once we've fixed the pump clip… I mean, seriously, you should be able to sell your beer without that sort of branding… please be more imaginative and design-focused with your branding in future. It's no longer the 1970s. Moving swiftly on to a pump clip we think is well designed, the new bitter from House Brewery (drumroll…..) House Bitter! We see what you did there, but we forgive you because you have the best happy hour poster we've ever seen as well as snazzy branding without the need for sleazy pump clips. You're on our 'next visit to London' list!
Luckily, for those who prefer a cooler, fizzier drink, we also have several superb suppers sneaking out of the cellar under the banner of 'condition without preconditions' otherwise known by the cumbersome term 'craft keg'. #NowPouring specialities: Biggest on the big flavours we have at the moment, our favourite IPA of the year so far is a collaboration between Left Handed Giant and as-yet-not-got-their-own-site-up-and-running newbies Duration. This beer is so new that we could only find one person who'd mentioned it on twitter! There's a few reviews on RateBeer but come and make up your own mind! We like it because its fruity and smooth with a hint of malt biscuit, with only a hint of the alcohol, until you get to the dry finish and get that gradual warming glow. Also hitting the ABVs is the brilliant Mid Week Bender from Nene Valley which is tasting better than ever before! Deep golden, almost amber, a little orangey, plenty of grain and then the late/dry hop finish for that California punch. From the hops to the dark side, a veritable feast of flavour from Odyssey, and their Slated Caramel Latte Export. 7% with a great balance, not too sweet, not too bitter, not too much coffee or 'milk', just a full mouth of overwhelming rich smoothness. This won't last long! Similarly, local dudes BrewBoard have got a keg of Turmoil IPA out to us, we'd been looking forward to this for some while, and it's truly excellent. Hints of pine and tropical fruit but mainly just a really hoppy full-on bitter IPA; don't expect this to last very long, we might end up with a line free for a night or two! Also in the not-too-mentally-strong IPA vein, Signature Brew Co's  Backstage IPA has been going well, 5.6% delivers an awesome punch of grapefruit with some earthy background giving it real depth for a beer we'd happily drink by the pint. So that's the current lineup, come down for a midweek bender one day or two before the weekend, it's definitely worth it. All the above #NowPouring
Then, by the end of the week, going into the next, we've got some Marble, a brand new Harbour/Dark Star collaboration and Odyssey, as well as a couple more NVB specialities.
Come drink beer!
Food
OUR KITCHEN
Our kitchen is open Monday-Saturday 12-3 and 6-9, and we serve a cracking Sunday Roast from 12 noon until it runs out, and then serve our regular menu until 8pm. It's always best to book a table, but as always we welcome people for food during all service times without advance booking. Please call us on 01223 471680
PLEASE NOTE that since we are now serving food, we no longer allow takeaways to be ordered to the pub.
Our menu is mainly based around the award-winning Pieminister Pie range, but we do let our chefs get a bit creative so a few specials will be available throughout the week.  If you are looking to host an event or bring a large number of people in, we are happy to discuss some special arrangements, please email us directly.
A vast selection of fine beverages
Needless to say, our focus is Real Ale, however we also stock a good range of Real Cider and Perry, having won Cider/Perry Pub of the Year for Cambridge 2012 and 2016.  We tend to stock 6 or 7 ever-changing ciders but always have a good  balance of sweet, medium, dry and occasionally a flavoured cider.
'Craft Beer'? Whatever your definition of it is, we have loads of it! Most people mean beer from keg taps rather than  hand-pump or served by gravity (straight out of the barrel), a method of dispense normally associated with lager. Whatever your personal opinions on non-cask-conditioned beer, we aim to provide a good balance of European lagers and new beer from the UK market.
Wine drinkers are not forgotten here, our small range comes hand-picked by our managers and the lovely folks at Bacchanalia, one of Cambridge's elite independent wine merchants.
Aperatif? Our shelves are stocked with over 70 single malt Scotch whiskies (and a few whiskeys for good measure) to dazzle you while you are standing at the bar. We have a few gins to choose from but let our sister pub The Blue Moon to act as our Gin Palace. A small selection of Rums and Bourbons add a little sweetness to our selection.
It's fair to say that we'll probably be able to find something you like!
Real Ales
Regular beers from Dark Star, Woodforde's and Nene Valley. Rotating new beers from Three Blind Mice, Mighty Oak, and many thousands more.
Wine
A small but fine selection from our friends at Bacchanalia, encompassing French, New Zealand, Chilean and Italian varieties.
Gin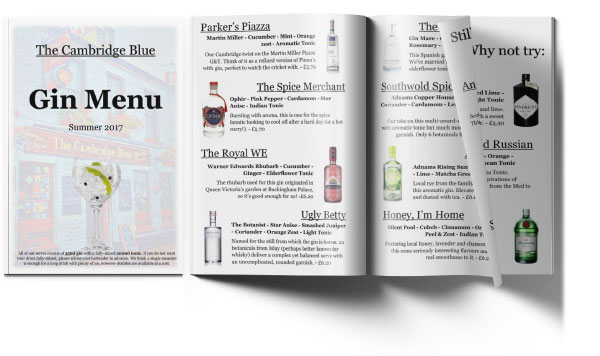 Malt Whiskies
A wide selection including some rarer and older expressions from all over Scotland. Occasional guest appearances from Irish and if you're really lucky, Japanese distilleries.
Normal Opening Hours:
Mon – Sat 12 – 11pm
Sun 12 – 10.30pm
Find out all the latest news on our Social Media