Greetings Casketeers! – your beery notes for this week!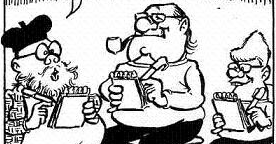 This week we have some lovely stuff hitting the taps, and even more hitting the cellar!
On the cask front, we've got some excellent hoppy stuff from the "Never-knowingly-underhopped" Kevin at Golden Triangle Brewery, Citropolis (3.9%) is racked up ready for the weekend and Bonny's Gold (4%) waiting in the wings to tickle those hoppy tastebuds. Don't see either of those lasting long! Also from Norfolk, Blimey! – the only brewery with an exclamation mark in their name that I've heard of – Son of Paleface, is a fantastic pale ale with plenty of citrus yet still managing to come across as a smooth flavour. Certainly exceeds the 7/10 IMDB gives the Bob Hope film of the same name. The brewers are showing their age a bit, but that's fine because their beer is awesome! Continuing the Norfolk theme, Grain have a NZ-hopped pale called Taiheke, which we're very excited about.
A curio from the West Midlands, Weatheroak Brewery's Keystone Hops (again, I think you have to be of a certain age to get that one), has a solid biscuity-malt base with a gently warming hoppy finish. If you are quick, we've got a lovely session pale from 3 Piers (from 'oop north' somewhere, probably using sparklers… tsk… Be the first to review it on RateBeer!) called – wait for it – Hop Cross Bunny! How eloquently jovial; that has certainly sparked some linguistic bonhomie on the bar this evening, I can tell you, friends! In fact, it's so funny we've had to pass up the opportunity of purchasing a similarly-named beer from a slightly more local brewery, simply for the fear that our sides would split, being unable to cope with two beers with the same hilarious name! Anyway, further down the line, we have had a good selection of ales from the fine Shrewsbury-based people at Salopian Brewery; these will hopefully start hitting the pumps from next week.
KEG ALERT, CASKOPHILES, EVIL KEG FILTH BELOW! 
Our friends at Nene Valley have a new beer out, it's a German-style Kellerbier which boasts and ABV of 4.6%, golden hue and uses classic Pilsner and Vienna malts as well as a bit of wheat. Should be a great quaffer for the week ahead. We've also got a Mid-week Bender on order for this week as their tweaked recipe went down so well last time. That'll hit the tap on Wednseday. Brewboard's latest beer CardinalRed takes it's place in the lineup as well this week, again, probably Wednesday, and we're hoping it will last until the weekend. Secret awesomeness from Three Blind Mice, Magic Rock and Anarchy coming in if you can imbibe your way through all that lot and more!
COME DRINK BEER!